GIT is the best coaching centre for JEXPO in Kolkata ,West Bengal. JEXPO is conducted by west Bengal state council of Technical education. There are  two slot of examination 1. Mathematics 100 marks  2. Physics & Chemistry (50+50) marks. We provide best study material for mathematics , Physics & Chemistry. Our professors will guide you for all subjects. Professors will guide the differ subjects by short cut techniques. Our facilities are:
Guidance by professors
Excellent study materials
Mock Tests & section Test
Doubt clearing classes
Library book facilities
AC Class rooms
Every year, Our many students have got chances in different Govt. Colleges
Acharya Prafulla Chandra Ray Polytechnic
Central Calcutta Polytechnic
Ramakrishna Mission Shilpapitha
Calcutta Technical School
Jnan Chandra Ghosh Polytechnic
North Calcutta Polytechnic College
Birla Institute of Technology
AJC Bose Polytechnic College
We will provide guarantee the the students will get best Govt. Polytecnic colleges. If you be interested for best Govt polytechnic colleges then contact immediately. Many  students are taking preparation from us. If your aim is for best polytechnic colleges then take admission  to the institute as soon as possible. For more details about JEXPO coaching then contact us: 43, shyama Polly, Jadavpur Sulekha, Kolkata 700032.
Phone: 8017967323 / 7980379233
Why Polytechnic is too much important?
Diploma Engineering after Madhyamik or class X.
Many scope to get Govt. Jobs.
There is a scope to do higher degree B.Tech after diploma courses.
Higher salary jobs after completion of diploma degree.
There are huge scope to get private job after completion of diploma degree.
Students will be focused for professional courses.
Students will be focused for smart culture.
For every thing, there are start from Polytechnic entrance i.e. JEXPO Examination. Therefore it is needed the preparation for JEXPO. The best coaching Institute for JEXPO is GIT. GIT is premier Institute for JEXPO Coaching.
Best Coaching Center for Jexpo in West Bengal Coching for JEXPO Best JEXPO Coaching Institute in Kolkata Best JEXPO Coaching Centre in Dumdum Best JEXPO Coaching Institute in Durgapur Best JEXPO Coaching Institute in Krishnanagar JEXPO Coaching centre in Kolkata JEXPO Coaching Centre in Kolkata
 JEXPO coaching Centre in Kolkata
Best Coaching Center for Jexpo in West Bengal Coching for JEXPO Best JEXPO Coaching Institute in Kolkata Best JEXPO Coaching Centre in Dumdum Best JEXPO Coaching Institute in Durgapur Best JEXPO Coaching Institute in Krishnanagar JEXPO Coaching centre in Kolkata JEXPO Coaching Centre in Kolkata
 JEXPO coaching Centre in Kolkata
Best Coaching Center for Jexpo in West Bengal Coching for JEXPO Best JEXPO Coaching Institute in Kolkata Best JEXPO Coaching Centre in Dumdum Best JEXPO Coaching Institute in Durgapur Best JEXPO Coaching Institute in Krishnanagar JEXPO Coaching centre in Kolkata JEXPO Coaching Centre in Kolkata
 JEXPO coaching Centre in Kolkata
Best Coaching Center for Jexpo in West Bengal Coching for JEXPO Best JEXPO Coaching Institute in Kolkata Best JEXPO Coaching Centre in Dumdum Best JEXPO Coaching Institute in Durgapur Best JEXPO Coaching Institute in Krishnanagar JEXPO Coaching centre in Kolkata JEXPO Coaching Centre in Kolkata
 JEXPO coaching Centre in Kolkata
Best Coaching Center for Jexpo in West Bengal Coching for JEXPO Best JEXPO Coaching Institute in Kolkata Best JEXPO Coaching Centre in Dumdum Best JEXPO Coaching Institute in Durgapur Best JEXPO Coaching Institute in Krishnanagar JEXPO Coaching centre in Kolkata JEXPO Coaching Centre in Kolkata
 JEXPO coaching Centre in Kolkata
Best Coaching Center for Jexpo in West Bengal Coching for JEXPO Best JEXPO Coaching Institute in Kolkata Best JEXPO Coaching Centre in Dumdum Best JEXPO Coaching Institute in Durgapur Best JEXPO Coaching Institute in Krishnanagar JEXPO Coaching centre in Kolkata JEXPO Coaching Centre in Kolkata
 JEXPO coaching Centre in Kolkata
Best Coaching Center for Jexpo in West Bengal Coching for JEXPO Best JEXPO Coaching Institute in Kolkata Best JEXPO Coaching Centre in Dumdum Best JEXPO Coaching Institute in Durgapur Best JEXPO Coaching Institute in Krishnanagar JEXPO Coaching centre in Kolkata JEXPO Coaching Centre in Kolkata
 JEXPO coaching Centre in Kolkata
Best Coaching Center for Jexpo in West Bengal Coching for JEXPO Best JEXPO Coaching Institute in Kolkata Best JEXPO Coaching Centre in Dumdum Best JEXPO Coaching Institute in Durgapur Best JEXPO Coaching Institute in Krishnanagar JEXPO Coaching centre in Kolkata JEXPO Coaching Centre in Kolkata
 JEXPO coaching Centre in Kolkata
Best Coaching Center for Jexpo in West Bengal Coching for JEXPO Best JEXPO Coaching Institute in Kolkata Best JEXPO Coaching Centre in Dumdum Best JEXPO Coaching Institute in Durgapur Best JEXPO Coaching Institute in Krishnanagar JEXPO Coaching centre in Kolkata JEXPO Coaching Centre in Kolkata
 JEXPO coaching Centre in Kolkata
Best Coaching Center for Jexpo in West Bengal Coching for JEXPO Best JEXPO Coaching Institute in Kolkata Best JEXPO Coaching Centre in Dumdum Best JEXPO Coaching Institute in Durgapur Best JEXPO Coaching Institute in Krishnanagar JEXPO Coaching centre in Kolkata JEXPO Coaching Centre in Kolkata
 JEXPO coaching Centre in Kolkata
Best Coaching Center for Jexpo in West Bengal Coching for JEXPO Best JEXPO Coaching Institute in Kolkata Best JEXPO Coaching Centre in Dumdum Best JEXPO Coaching Institute in Durgapur Best JEXPO Coaching Institute in Krishnanagar JEXPO Coaching centre in Kolkata JEXPO Coaching Centre in Kolkata
 JEXPO coaching Centre in Kolkata
Best Coaching Center for Jexpo in West Bengal Coching for JEXPO Best JEXPO Coaching Institute in Kolkata Best JEXPO Coaching Centre in Dumdum Best JEXPO Coaching Institute in Durgapur Best JEXPO Coaching Institute in Krishnanagar JEXPO Coaching centre in Kolkata JEXPO Coaching Centre in Kolkata
 JEXPO coaching Centre in Kolkata
Best Coaching Center for Jexpo in West Bengal Coching for JEXPO Best JEXPO Coaching Institute in Kolkata Best JEXPO Coaching Centre in Dumdum Best JEXPO Coaching Institute in Durgapur Best JEXPO Coaching Institute in Krishnanagar JEXPO Coaching centre in Kolkata JEXPO Coaching Centre in Kolkata
 JEXPO coaching Centre in Kolkata
Best Coaching Center for Jexpo in West Bengal Coching for JEXPO Best JEXPO Coaching Institute in Kolkata Best JEXPO Coaching Centre in Dumdum Best JEXPO Coaching Institute in Durgapur Best JEXPO Coaching Institute in Krishnanagar JEXPO Coaching centre in Kolkata JEXPO Coaching Centre in Kolkata
 JEXPO coaching Centre in Kolkata
Best Coaching Center for Jexpo in West Bengal Coching for JEXPO Best JEXPO Coaching Institute in Kolkata Best JEXPO Coaching Centre in Dumdum Best JEXPO Coaching Institute in Durgapur Best JEXPO Coaching Institute in Krishnanagar JEXPO Coaching centre in Kolkata JEXPO Coaching Centre in Kolkata
 JEXPO coaching Centre in Kolkata
Best Coaching Center for Jexpo in West Bengal Coching for JEXPO Best JEXPO Coaching Institute in Kolkata Best JEXPO Coaching Centre in Dumdum Best JEXPO Coaching Institute in Durgapur Best JEXPO Coaching Institute in Krishnanagar JEXPO Coaching centre in Kolkata JEXPO Coaching Centre in Kolkata
 JEXPO coaching Centre in Kolkata
Best Coaching Center for Jexpo in West Bengal Coching for JEXPO Best JEXPO Coaching Institute in Kolkata Best JEXPO Coaching Centre in Dumdum Best JEXPO Coaching Institute in Durgapur Best JEXPO Coaching Institute in Krishnanagar JEXPO Coaching centre in Kolkata JEXPO Coaching Centre in Kolkata
 JEXPO coaching Centre in Kolkata
Best Coaching Center for Jexpo in West Bengal Coching for JEXPO Best JEXPO Coaching Institute in Kolkata Best JEXPO Coaching Centre in Dumdum Best JEXPO Coaching Institute in Durgapur Best JEXPO Coaching Institute in Krishnanagar JEXPO Coaching centre in Kolkata JEXPO Coaching Centre in Kolkata
 JEXPO coaching Centre in Kolkata
Best Coaching Center for Jexpo in West Bengal Coching for JEXPO Best JEXPO Coaching Institute in Kolkata Best JEXPO Coaching Centre in Dumdum Best JEXPO Coaching Institute in Durgapur Best JEXPO Coaching Institute in Krishnanagar JEXPO Coaching centre in Kolkata JEXPO Coaching Centre in Kolkata
 JEXPO coaching Centre in Kolkata
Best Coaching Center for Jexpo in West Bengal Coching for JEXPO Best JEXPO Coaching Institute in Kolkata Best JEXPO Coaching Centre in Dumdum Best JEXPO Coaching Institute in Durgapur Best JEXPO Coaching Institute in Krishnanagar JEXPO Coaching centre in Kolkata JEXPO Coaching Centre in Kolkata
 JEXPO coaching Centre in Kolkata
Best Coaching Center for Jexpo in West Bengal Coching for JEXPO Best JEXPO Coaching Institute in Kolkata Best JEXPO Coaching Centre in Dumdum Best JEXPO Coaching Institute in Durgapur Best JEXPO Coaching Institute in Krishnanagar JEXPO Coaching centre in Kolkata JEXPO Coaching Centre in Kolkata
 JEXPO coaching Centre in Kolkata
Best Coaching Center for Jexpo in West Bengal Coching for JEXPO Best JEXPO Coaching Institute in Kolkata Best JEXPO Coaching Centre in Dumdum Best JEXPO Coaching Institute in Durgapur Best JEXPO Coaching Institute in Krishnanagar JEXPO Coaching centre in Kolkata JEXPO Coaching Centre in Kolkata
 JEXPO coaching Centre in Kolkata
Best Coaching Center for Jexpo in West Bengal Coching for JEXPO Best JEXPO Coaching Institute in Kolkata Best JEXPO Coaching Centre in Dumdum Best JEXPO Coaching Institute in Durgapur Best JEXPO Coaching Institute in Krishnanagar JEXPO Coaching centre in Kolkata JEXPO Coaching Centre in Kolkata
 JEXPO coaching Centre in Kolkata
Best Coaching Center for Jexpo in West Bengal Coching for JEXPO Best JEXPO Coaching Institute in Kolkata Best JEXPO Coaching Centre in Dumdum Best JEXPO Coaching Institute in Durgapur Best JEXPO Coaching Institute in Krishnanagar JEXPO Coaching centre in Kolkata JEXPO Coaching Centre in Kolkata
 JEXPO coaching Centre in Kolkata
Best Coaching Center for Jexpo in West Bengal Coching for JEXPO Best JEXPO Coaching Institute in Kolkata Best JEXPO Coaching Centre in Dumdum Best JEXPO Coaching Institute in Durgapur Best JEXPO Coaching Institute in Krishnanagar JEXPO Coaching centre in Kolkata JEXPO Coaching Centre in Kolkata
 JEXPO coaching Centre in Kolkata
Best Coaching Center for Jexpo in West Bengal Coching for JEXPO Best JEXPO Coaching Institute in Kolkata Best JEXPO Coaching Centre in Dumdum Best JEXPO Coaching Institute in Durgapur Best JEXPO Coaching Institute in Krishnanagar JEXPO Coaching centre in Kolkata JEXPO Coaching Centre in Kolkata
 JEXPO coaching Centre in Kolkata
Best Coaching Center for Jexpo in West Bengal Coching for JEXPO Best JEXPO Coaching Institute in Kolkata Best JEXPO Coaching Centre in Dumdum Best JEXPO Coaching Institute in Durgapur Best JEXPO Coaching Institute in Krishnanagar JEXPO Coaching centre in Kolkata JEXPO Coaching Centre in Kolkata
 JEXPO coaching Centre in Kolkata
Best Coaching Center for Jexpo in West Bengal Coching for JEXPO Best JEXPO Coaching Institute in Kolkata Best JEXPO Coaching Centre in Dumdum Best JEXPO Coaching Institute in Durgapur Best JEXPO Coaching Institute in Krishnanagar JEXPO Coaching centre in Kolkata JEXPO Coaching Centre in Kolkata
 JEXPO coaching Centre in Kolkata
Best Coaching Center for Jexpo in West Bengal Coching for JEXPO Best JEXPO Coaching Institute in Kolkata Best JEXPO Coaching Centre in Dumdum Best JEXPO Coaching Institute in Durgapur Best JEXPO Coaching Institute in Krishnanagar JEXPO Coaching centre in Kolkata JEXPO Coaching Centre in Kolkata
 JEXPO coaching Centre in Kolkata
Best Coaching Center for Jexpo in West Bengal Coching for JEXPO Best JEXPO Coaching Institute in Kolkata Best JEXPO Coaching Centre in Dumdum Best JEXPO Coaching Institute in Durgapur Best JEXPO Coaching Institute in Krishnanagar JEXPO Coaching centre in Kolkata JEXPO Coaching Centre in Kolkata
 JEXPO coaching Centre in Kolkata
Best Coaching Center for Jexpo in West Bengal Coching for JEXPO Best JEXPO Coaching Institute in Kolkata Best JEXPO Coaching Centre in Dumdum Best JEXPO Coaching Institute in Durgapur Best JEXPO Coaching Institute in Krishnanagar JEXPO Coaching centre in Kolkata JEXPO Coaching Centre in Kolkata
 JEXPO coaching Centre in Kolkata
Best Coaching Center for Jexpo in West Bengal Coching for JEXPO Best JEXPO Coaching Institute in Kolkata Best JEXPO Coaching Centre in Dumdum Best JEXPO Coaching Institute in Durgapur Best JEXPO Coaching Institute in Krishnanagar JEXPO Coaching centre in Kolkata JEXPO Coaching Centre in Kolkata
 JEXPO coaching Centre in Kolkata
Best Coaching Center for Jexpo in West Bengal Coching for JEXPO Best JEXPO Coaching Institute in Kolkata Best JEXPO Coaching Centre in Dumdum Best JEXPO Coaching Institute in Durgapur Best JEXPO Coaching Institute in Krishnanagar JEXPO Coaching centre in Kolkata JEXPO Coaching Centre in Kolkata
 JEXPO coaching Centre in Kolkata
Best Coaching Center for Jexpo in West Bengal Coching for JEXPO Best JEXPO Coaching Institute in Kolkata Best JEXPO Coaching Centre in Dumdum Best JEXPO Coaching Institute in Durgapur Best JEXPO Coaching Institute in Krishnanagar JEXPO Coaching centre in Kolkata JEXPO Coaching Centre in Kolkata
 JEXPO coaching Centre in Kolkata
Best Coaching Center for Jexpo in West Bengal Coching for JEXPO Best JEXPO Coaching Institute in Kolkata Best JEXPO Coaching Centre in Dumdum Best JEXPO Coaching Institute in Durgapur Best JEXPO Coaching Institute in Krishnanagar JEXPO Coaching centre in Kolkata JEXPO Coaching Centre in Kolkata
 JEXPO coaching Centre in Kolkata
Best Coaching Center for Jexpo in West Bengal Coching for JEXPO Best JEXPO Coaching Institute in Kolkata Best JEXPO Coaching Centre in Dumdum Best JEXPO Coaching Institute in Durgapur Best JEXPO Coaching Institute in Krishnanagar JEXPO Coaching centre in Kolkata JEXPO Coaching Centre in Kolkata
 JEXPO coaching Centre in Kolkata
Best Coaching Center for Jexpo in West Bengal Coching for JEXPO Best JEXPO Coaching Institute in Kolkata Best JEXPO Coaching Centre in Dumdum Best JEXPO Coaching Institute in Durgapur Best JEXPO Coaching Institute in Krishnanagar JEXPO Coaching centre in Kolkata JEXPO Coaching Centre in Kolkata
 JEXPO coaching Centre in Kolkata
Best Coaching Center for Jexpo in West Bengal Coching for JEXPO Best JEXPO Coaching Institute in Kolkata Best JEXPO Coaching Centre in Dumdum Best JEXPO Coaching Institute in Durgapur Best JEXPO Coaching Institute in Krishnanagar JEXPO Coaching centre in Kolkata JEXPO Coaching Centre in Kolkata
 JEXPO coaching Centre in Kolkata
Best Coaching Center for Jexpo in West Bengal Coching for JEXPO Best JEXPO Coaching Institute in Kolkata Best JEXPO Coaching Centre in Dumdum Best JEXPO Coaching Institute in Durgapur Best JEXPO Coaching Institute in Krishnanagar JEXPO Coaching centre in Kolkata JEXPO Coaching Centre in Kolkata
 JEXPO coaching Centre in Kolkata
Best Coaching Center for Jexpo in West Bengal Coching for JEXPO Best JEXPO Coaching Institute in Kolkata Best JEXPO Coaching Centre in Dumdum Best JEXPO Coaching Institute in Durgapur Best JEXPO Coaching Institute in Krishnanagar JEXPO Coaching centre in Kolkata JEXPO Coaching Centre in Kolkata
 JEXPO coaching Centre in Kolkata
Best Coaching Center for Jexpo in West Bengal Coching for JEXPO Best JEXPO Coaching Institute in Kolkata Best JEXPO Coaching Centre in Dumdum Best JEXPO Coaching Institute in Durgapur Best JEXPO Coaching Institute in Krishnanagar JEXPO Coaching centre in Kolkata JEXPO Coaching Centre in Kolkata
 JEXPO coaching Centre in Kolkata
Best Coaching Center for Jexpo in West Bengal Coching for JEXPO Best JEXPO Coaching Institute in Kolkata Best JEXPO Coaching Centre in Dumdum Best JEXPO Coaching Institute in Durgapur Best JEXPO Coaching Institute in Krishnanagar JEXPO Coaching centre in Kolkata JEXPO Coaching Centre in Kolkata
 JEXPO coaching Centre in Kolkata
Best Coaching Center for Jexpo in West Bengal Coching for JEXPO Best JEXPO Coaching Institute in Kolkata Best JEXPO Coaching Centre in Dumdum Best JEXPO Coaching Institute in Durgapur Best JEXPO Coaching Institute in Krishnanagar JEXPO Coaching centre in Kolkata JEXPO Coaching Centre in Kolkata
 JEXPO coaching Centre in Kolkata
Best Coaching Center for Jexpo in West Bengal Coching for JEXPO Best JEXPO Coaching Institute in Kolkata Best JEXPO Coaching Centre in Dumdum Best JEXPO Coaching Institute in Durgapur Best JEXPO Coaching Institute in Krishnanagar JEXPO Coaching centre in Kolkata JEXPO Coaching Centre in Kolkata
 JEXPO coaching Centre in Kolkata
Best Coaching Center for Jexpo in West Bengal Coching for JEXPO Best JEXPO Coaching Institute in Kolkata Best JEXPO Coaching Centre in Dumdum Best JEXPO Coaching Institute in Durgapur Best JEXPO Coaching Institute in Krishnanagar JEXPO Coaching centre in Kolkata JEXPO Coaching Centre in Kolkata
 JEXPO coaching Centre in Kolkata
Best Coaching Center for Jexpo in West Bengal Coching for JEXPO Best JEXPO Coaching Institute in Kolkata Best JEXPO Coaching Centre in Dumdum Best JEXPO Coaching Institute in Durgapur Best JEXPO Coaching Institute in Krishnanagar JEXPO Coaching centre in Kolkata JEXPO Coaching Centre in Kolkata
 JEXPO coaching Centre in Kolkata
Best Coaching Center for Jexpo in West Bengal Coching for JEXPO Best JEXPO Coaching Institute in Kolkata Best JEXPO Coaching Centre in Dumdum Best JEXPO Coaching Institute in Durgapur Best JEXPO Coaching Institute in Krishnanagar JEXPO Coaching centre in Kolkata JEXPO Coaching Centre in Kolkata
 JEXPO coaching Centre in Kolkata
Best Coaching Center for Jexpo in West Bengal Coching for JEXPO Best JEXPO Coaching Institute in Kolkata Best JEXPO Coaching Centre in Dumdum Best JEXPO Coaching Institute in Durgapur Best JEXPO Coaching Institute in Krishnanagar JEXPO Coaching centre in Kolkata JEXPO Coaching Centre in Kolkata
 JEXPO coaching Centre in Kolkata
Best Coaching Center for Jexpo in West Bengal Coching for JEXPO Best JEXPO Coaching Institute in Kolkata Best JEXPO Coaching Centre in Dumdum Best JEXPO Coaching Institute in Durgapur Best JEXPO Coaching Institute in Krishnanagar JEXPO Coaching centre in Kolkata JEXPO Coaching Centre in Kolkata
 JEXPO coaching Centre in Kolkata
Best Coaching Center for Jexpo in West Bengal Coching for JEXPO Best JEXPO Coaching Institute in Kolkata Best JEXPO Coaching Centre in Dumdum Best JEXPO Coaching Institute in Durgapur Best JEXPO Coaching Institute in Krishnanagar JEXPO Coaching centre in Kolkata JEXPO Coaching Centre in Kolkata
 JEXPO coaching Centre in Kolkata
Best Coaching Center for Jexpo in West Bengal Coching for JEXPO Best JEXPO Coaching Institute in Kolkata Best JEXPO Coaching Centre in Dumdum Best JEXPO Coaching Institute in Durgapur Best JEXPO Coaching Institute in Krishnanagar JEXPO Coaching centre in Kolkata JEXPO Coaching Centre in Kolkata
 JEXPO coaching Centre in Kolkata
Best Coaching Center for Jexpo in West Bengal Coching for JEXPO Best JEXPO Coaching Institute in Kolkata Best JEXPO Coaching Centre in Dumdum Best JEXPO Coaching Institute in Durgapur Best JEXPO Coaching Institute in Krishnanagar JEXPO Coaching centre in Kolkata JEXPO Coaching Centre in Kolkata
 JEXPO coaching Centre in Kolkata
Best Coaching Center for Jexpo in West Bengal Coching for JEXPO Best JEXPO Coaching Institute in Kolkata Best JEXPO Coaching Centre in Dumdum Best JEXPO Coaching Institute in Durgapur Best JEXPO Coaching Institute in Krishnanagar JEXPO Coaching centre in Kolkata JEXPO Coaching Centre in Kolkata
 JEXPO coaching Centre in Kolkata
Best Coaching Center for Jexpo in West Bengal Coching for JEXPO Best JEXPO Coaching Institute in Kolkata Best JEXPO Coaching Centre in Dumdum Best JEXPO Coaching Institute in Durgapur Best JEXPO Coaching Institute in Krishnanagar JEXPO Coaching centre in Kolkata JEXPO Coaching Centre in Kolkata
 JEXPO coaching Centre in Kolkata
Best Coaching Center for Jexpo in West Bengal Coching for JEXPO Best JEXPO Coaching Institute in Kolkata Best JEXPO Coaching Centre in Dumdum Best JEXPO Coaching Institute in Durgapur Best JEXPO Coaching Institute in Krishnanagar JEXPO Coaching centre in Kolkata JEXPO Coaching Centre in Kolkata
 JEXPO coaching Centre in Kolkata
Best Coaching Center for Jexpo in West Bengal Coching for JEXPO Best JEXPO Coaching Institute in Kolkata Best JEXPO Coaching Centre in Dumdum Best JEXPO Coaching Institute in Durgapur Best JEXPO Coaching Institute in Krishnanagar JEXPO Coaching centre in Kolkata JEXPO Coaching Centre in Kolkata
 JEXPO coaching Centre in Kolkata
Best Coaching Center for Jexpo in West Bengal Coching for JEXPO Best JEXPO Coaching Institute in Kolkata Best JEXPO Coaching Centre in Dumdum Best JEXPO Coaching Institute in Durgapur Best JEXPO Coaching Institute in Krishnanagar JEXPO Coaching centre in Kolkata JEXPO Coaching Centre in Kolkata
 JEXPO coaching Centre in Kolkata
Best Coaching Center for Jexpo in West Bengal Coching for JEXPO Best JEXPO Coaching Institute in Kolkata Best JEXPO Coaching Centre in Dumdum Best JEXPO Coaching Institute in Durgapur Best JEXPO Coaching Institute in Krishnanagar JEXPO Coaching centre in Kolkata JEXPO Coaching Centre in Kolkata
 JEXPO coaching Centre in Kolkata
Best Coaching Center for Jexpo in West Bengal Coching for JEXPO Best JEXPO Coaching Institute in Kolkata Best JEXPO Coaching Centre in Dumdum Best JEXPO Coaching Institute in Durgapur Best JEXPO Coaching Institute in Krishnanagar JEXPO Coaching centre in Kolkata JEXPO Coaching Centre in Kolkata
 JEXPO coaching Centre in Kolkata
Best Coaching Center for Jexpo in West Bengal Coching for JEXPO Best JEXPO Coaching Institute in Kolkata Best JEXPO Coaching Centre in Dumdum Best JEXPO Coaching Institute in Durgapur Best JEXPO Coaching Institute in Krishnanagar JEXPO Coaching centre in Kolkata JEXPO Coaching Centre in Kolkata
 JEXPO coaching Centre in Kolkata
Best Coaching Center for Jexpo in West Bengal Coching for JEXPO Best JEXPO Coaching Institute in Kolkata Best JEXPO Coaching Centre in Dumdum Best JEXPO Coaching Institute in Durgapur Best JEXPO Coaching Institute in Krishnanagar JEXPO Coaching centre in Kolkata JEXPO Coaching Centre in Kolkata
 JEXPO coaching Centre in Kolkata
Best Coaching Center for Jexpo in West Bengal Coching for JEXPO Best JEXPO Coaching Institute in Kolkata Best JEXPO Coaching Centre in Dumdum Best JEXPO Coaching Institute in Durgapur Best JEXPO Coaching Institute in Krishnanagar JEXPO Coaching centre in Kolkata JEXPO Coaching Centre in Kolkata
 JEXPO coaching Centre in Kolkata
Best Coaching Center for Jexpo in West Bengal Coching for JEXPO Best JEXPO Coaching Institute in Kolkata Best JEXPO Coaching Centre in Dumdum Best JEXPO Coaching Institute in Durgapur Best JEXPO Coaching Institute in Krishnanagar JEXPO Coaching centre in Kolkata JEXPO Coaching Centre in Kolkata
 JEXPO coaching Centre in Kolkata
Best Coaching Center for Jexpo in West Bengal Coching for JEXPO Best JEXPO Coaching Institute in Kolkata Best JEXPO Coaching Centre in Dumdum Best JEXPO Coaching Institute in Durgapur Best JEXPO Coaching Institute in Krishnanagar JEXPO Coaching centre in Kolkata JEXPO Coaching Centre in Kolkata
 JEXPO coaching Centre in Kolkata
Best Coaching Center for Jexpo in West Bengal Coching for JEXPO Best JEXPO Coaching Institute in Kolkata Best JEXPO Coaching Centre in Dumdum Best JEXPO Coaching Institute in Durgapur Best JEXPO Coaching Institute in Krishnanagar JEXPO Coaching centre in Kolkata JEXPO Coaching Centre in Kolkata
 JEXPO coaching Centre in Kolkata
Best Coaching Center for Jexpo in West Bengal Coching for JEXPO Best JEXPO Coaching Institute in Kolkata Best JEXPO Coaching Centre in Dumdum Best JEXPO Coaching Institute in Durgapur Best JEXPO Coaching Institute in Krishnanagar JEXPO Coaching centre in Kolkata JEXPO Coaching Centre in Kolkata
 JEXPO coaching Centre in Kolkata
Best Coaching Center for Jexpo in West Bengal Coching for JEXPO Best JEXPO Coaching Institute in Kolkata Best JEXPO Coaching Centre in Dumdum Best JEXPO Coaching Institute in Durgapur Best JEXPO Coaching Institute in Krishnanagar JEXPO Coaching centre in Kolkata JEXPO Coaching Centre in Kolkata
 JEXPO coaching Centre in Kolkata
Best Coaching Center for Jexpo in West Bengal Coching for JEXPO Best JEXPO Coaching Institute in Kolkata Best JEXPO Coaching Centre in Dumdum Best JEXPO Coaching Institute in Durgapur Best JEXPO Coaching Institute in Krishnanagar JEXPO Coaching centre in Kolkata JEXPO Coaching Centre in Kolkata
 JEXPO coaching Centre in Kolkata
Best Coaching Center for Jexpo in West Bengal Coching for JEXPO Best JEXPO Coaching Institute in Kolkata Best JEXPO Coaching Centre in Dumdum Best JEXPO Coaching Institute in Durgapur Best JEXPO Coaching Institute in Krishnanagar JEXPO Coaching centre in Kolkata JEXPO Coaching Centre in Kolkata
 JEXPO coaching Centre in Kolkata
Best Coaching Center for Jexpo in West Bengal Coching for JEXPO Best JEXPO Coaching Institute in Kolkata Best JEXPO Coaching Centre in Dumdum Best JEXPO Coaching Institute in Durgapur Best JEXPO Coaching Institute in Krishnanagar JEXPO Coaching centre in Kolkata JEXPO Coaching Centre in Kolkata
 JEXPO coaching Centre in Kolkata
Best Coaching Center for Jexpo in West Bengal Coching for JEXPO Best JEXPO Coaching Institute in Kolkata Best JEXPO Coaching Centre in Dumdum Best JEXPO Coaching Institute in Durgapur Best JEXPO Coaching Institute in Krishnanagar JEXPO Coaching centre in Kolkata JEXPO Coaching Centre in Kolkata
 JEXPO coaching Centre in Kolkata
Best Coaching Center for Jexpo in West Bengal Coching for JEXPO Best JEXPO Coaching Institute in Kolkata Best JEXPO Coaching Centre in Dumdum Best JEXPO Coaching Institute in Durgapur Best JEXPO Coaching Institute in Krishnanagar JEXPO Coaching centre in Kolkata JEXPO Coaching Centre in Kolkata
 JEXPO coaching Centre in Kolkata
Best Coaching Center for Jexpo in West Bengal Coching for JEXPO Best JEXPO Coaching Institute in Kolkata Best JEXPO Coaching Centre in Dumdum Best JEXPO Coaching Institute in Durgapur Best JEXPO Coaching Institute in Krishnanagar JEXPO Coaching centre in Kolkata JEXPO Coaching Centre in Kolkata
 JEXPO coaching Centre in Kolkata
Best Coaching Center for Jexpo in West Bengal Coching for JEXPO Best JEXPO Coaching Institute in Kolkata Best JEXPO Coaching Centre in Dumdum Best JEXPO Coaching Institute in Durgapur Best JEXPO Coaching Institute in Krishnanagar JEXPO Coaching centre in Kolkata JEXPO Coaching Centre in Kolkata
 JEXPO coaching Centre in Kolkata
Best Coaching Center for Jexpo in West Bengal Coching for JEXPO Best JEXPO Coaching Institute in Kolkata Best JEXPO Coaching Centre in Dumdum Best JEXPO Coaching Institute in Durgapur Best JEXPO Coaching Institute in Krishnanagar JEXPO Coaching centre in Kolkata JEXPO Coaching Centre in Kolkata
 JEXPO coaching Centre in Kolkata
Best Coaching Center for Jexpo in West Bengal Coching for JEXPO Best JEXPO Coaching Institute in Kolkata Best JEXPO Coaching Centre in Dumdum Best JEXPO Coaching Institute in Durgapur Best JEXPO Coaching Institute in Krishnanagar JEXPO Coaching centre in Kolkata JEXPO Coaching Centre in Kolkata
 JEXPO coaching Centre in Kolkata
Best Coaching Center for Jexpo in West Bengal Coching for JEXPO Best JEXPO Coaching Institute in Kolkata Best JEXPO Coaching Centre in Dumdum Best JEXPO Coaching Institute in Durgapur Best JEXPO Coaching Institute in Krishnanagar JEXPO Coaching centre in Kolkata JEXPO Coaching Centre in Kolkata
 JEXPO coaching Centre in Kolkata
Summary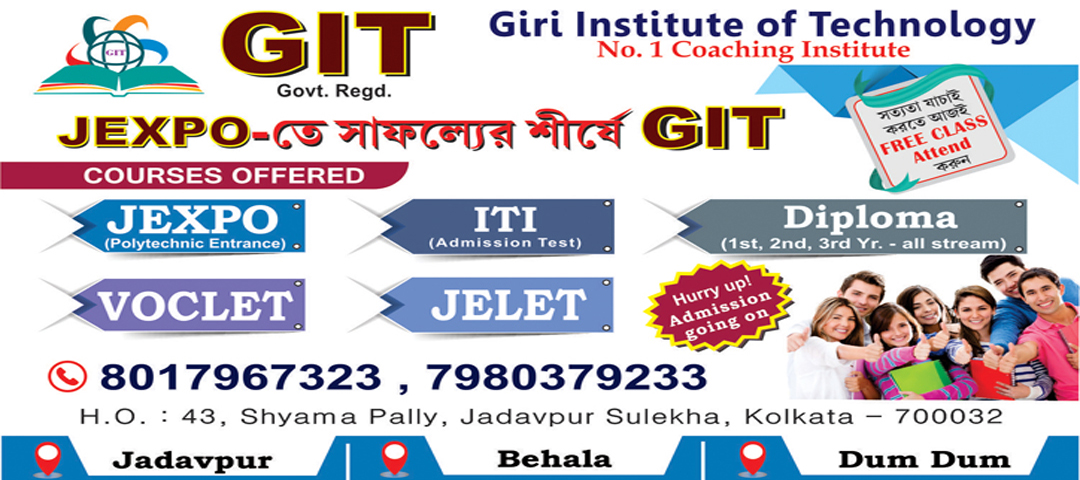 Service Type
Best JEXPO Coaching Centre in Kolkata
Provider Name
GIT
,
43, Shyama Pally
,
Jadavpur, Sulekha
,
Jadavpur
-
700032
,
Telephone No.8017967323
Area
Description
Best JEXPO Coaching Centre in kolkata in West Bengal Rank 1 GIT Phone: 8017967323