JEXPO 2015 FORM FILL UP Date Extended.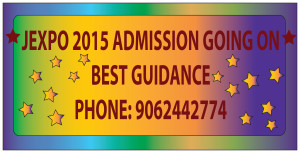 Extension of Date for distribution of JEXPO-2015 & VOCLET-2015 Application Forms
In the interest of aspiring candidates, the period of distribution of application forms of JEXPO-2015 & VOCLET-2015, is being further extended for a period from 05.01.2015 to 22.01.2015. The forms will be available from all Polytechnics and some selected schools in the state, as notified earlier. Last date of submission of filled-in Application Forms is 22.01.2015
For  from fill up and get coaching and tuition for  JEXPO  -2015 and VOCLET -2015 contact with us.
Phone: 9062442774
Or
033 65222774