Bachelor of Hospital Management
For Admission contact Phone: 9062442774 / 8017967323
Career Prospects
Most job opportunities in the field of Hospital Management are in hospitals, but one can also find openings in health agencies, laboratories and other health and allied services. Government hospitals as well as private hospitals employ Hospital administrators/ managers. Hospital Management positions varies from Head of the department to Chief executive officer at numerous organizational levels. A fresh graduate with Master's degree in health services or hospital administration may start their professional career as Assistant Hospital administrators or as managers of various departments like Front office, Public Relations, finance, Quality control etc. Experienced and senior Hospital Administrators can eventually reach the position of Chief Executive Officer (CEO). It is these people who are supposed to report to the board of directors or the governing body of the hospital.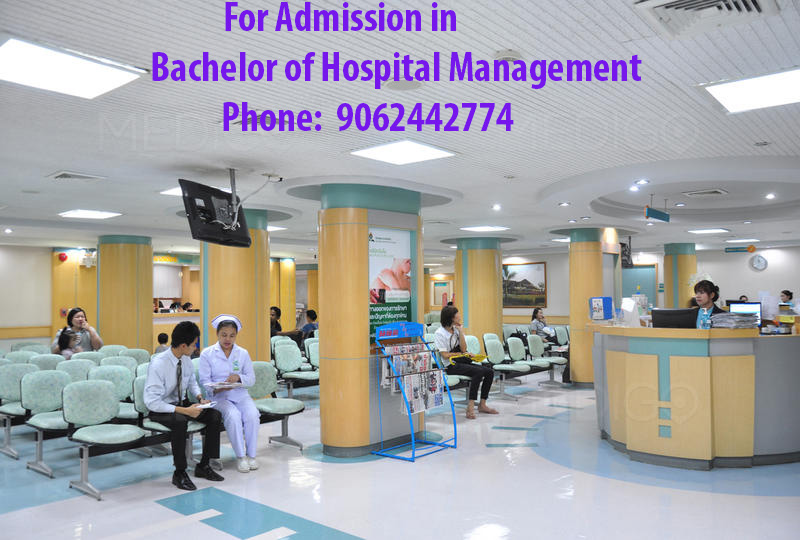 The Hospital Manager's role differs according to the size of the organization. In a smaller, medical or health care center, they have to handle day-to-day administrative work, which may involve billing, maintenance, equipment supply etc. and also work closely with doctors, in group practice and decision-making. But large-scale organizations may require the services of a manager in key aspects as well. Hospital administrators have to co-ordinate amongest the various departments of the hospital and have to ensure that all equipments are functional. They are responsible for hiring non-medical staff, maintenance of hospital services, security, building the hospital brand, non-marketing, accounts, financial operations, planning and control for continuous supply of materials, management of the research and clinical work etc.
Employment opportunities in this field are plenty. Fresh degree holders may start their professional career as assistant hospital administrators or as managers of non-health departments like finance. One can find employment in large corporate and public sector hospitals, international and national healthcare organizations and health insurance companies, College and Universities, Healthcare Portals, Nursing Homes, Mental Health Facilities, Pharmaceuticals and Hospital Supply Firms, Medical Software Companies and Hospital Consulting Firms. Big hospitals like Escorts Heart Institute, Apollo Hospital, Belleview Hospital, CMRI, AMRI, Moolchand Hospital, Rajiv Gandhi Cancer Hospital etc. appoint hospital management graduates for their administration purposes.
Eligibility:
The applicant must be an Indian citizen, having passed/ appeared at the Higher Secondary Examination in the General or Vocational Stream of the West Bengal Council of Higher Secondary Education or its equivalent examination from a recognized University/ Board. Candidates applying for admission should have English as one of the subjects at the 10+2 level. The admission of the candidate would be subject to clearing as guidelines of affiliated University.
Programme Information
A large number of private hospitals and clinics have come up all over the country. With increasing emphasis on quality of health care and patient satisfaction there is a tremendous need for persons with a professional qualification in Hospital Management.
Hospital Management is a new concept in management stream. Gone are the days when a senior doctor would generally be responsible for the role of a hospital manager. But in today's era of specialization, the term hospital has undergone sea- changes and many categories related to medical sciences and hospitals have been revamped completely. We have ordinary hospitals, specialty hospitals and even super specialty hospitals depending upon the kinds of services they render to the public and the number of people they cater to.
Following are the topics covered in this professional programme :
Administration of Hospital and Health Care Planning
General & Personnel Management in Health Institutions
Concepts of Epidemiology (Public Health Administration), Anatomy
Physiology and Medical Terminology
Financial Management & Inventory Control in Hospitals
Behavioural Science (Organizational Behaviour in Hospitals)
Organization & Management of Hospitals
Health Management Information System
Hospital Policies, Practices, Acts & Committees
Reports, Hospital Committee Reports & National Health Plans. (Industrial Relations, Employees Welfare, Trade Unions, Labour Laws)
Counselling
As a Hospital Administrator, one has to be responsible for the overall organization and management of the hospital to ensure its smooth functioning with the objective of ensuring the complete satisfaction of the patient. One has to co-ordinate between the various departments of the hospital, ensure that all the equipment is functional, that there is a smooth flow of medical supplies and above all the required standards of cleanliness are maintained. Besides, one deals with the employees and financial matters. The emphasis is on quality, efficiency and cost containment. The challenge is to deliver the highest quality care at the lowest cost. It entails giving 100% of your time to quality in-patient care, lowering the length of stay, decreasing resource utilization, and working with the medical and administrative staff to co-ordinate all aspects of in-house care. For the smooth functioning of a hospital, qualified professionals are required. As a consequence, several courses and training programmes have been developed to churn out professional hospital mangers. Such individuals are by far exceedingly well-equipped to face the growing challenges and cater to the specific requirements of modern day hospitals. Hospital Management courses are not only for the medical graduates but are also open to non-medical and non-science graduates.
INFRASTRUCTURE
we have all the prevailing facilities along with contemporary labs matching only with the World Class Institutes around the World. Our constant endeavor is to provide with very congenial environment to the students with solid foundation of amenities for their learning.
Classroom to Attend Lecture & Participation
The qualities, skills, knowledge and confidence to perform in a practical class & further comes from the exemplary study in the class room.  Smart classrooms in the campuses with the array of hi-tech seating, education delivery, audio-visual equipments such as White Board, LCD projector, Digital storage device along with DVD / CD player enhances learning process which is participative & impeccable. In the classroom it's not only lectures by the faculty members but students participate in discussion & can put their ideas forward.
Library to Enhance Knowledge
A well maintained and spacious library and reading room stocked with the latest reference books and textbooks on pharmacy subjects is available for use to the pharmacy students. The college also subscribes different Indian and Foreign journals and periodicals for keeping the students and faculty abreast with the latest developments in pharmaceutical sciences. The Library possesses large number of books and different titles relevant to all the subjects in pharmacy and allied fields.
we have well established library which caters to the need of the undergraduate Pharma & B.Sc.(H) students and the faculty members. At our Pharma college library we have large number of books and journals. Students can land 5 books for studying through out the semester from our 'book bank' facility & can take 2 books for daily reading. We have hundreds of e-journal & magazines for up-to-date information to the students. Our library system is fully automated with LIBSYS facility. Our Libraries are also member of the Indian National Library.
Auditorium for Extra-curricular Activities
Pharma & B.sc.(H) students need to participate at seminar, group discussion, and symposium to enhance their knowledge & skill about latest happening in the related industry.
 We have conference hall with seating capacity of 100 people. These places are utilized for conducting seminar, presentation by eminent personalities, lectures delivers by industry professionals. These are also utilized for different competition like debate, quiz etc. as part of extra-curricular activities.
Language Lab for Learning Global Communication
English is the medium of instruction by which knowledge is generated, gathered and shared.
Our effective programmes have been designed to give students the linguistic and communicational skills, as well as the confidence, to compete globally. Our English courses provide a thorough grounding in the four language skills of listening, speaking, reading and writing. The English training programme develops both general & academic English language skills. On successful completion of the courses, the students are able to communicate and interact effectively.
The Computer Labs for Mixing IT with Hospital Management
Both of our Institutes those offering Hospital Management courses having state-of-the-art Computer Labs. It is our endeavor to utilize all our computer resources very effectively so that students can get maximum benefit.
Following are the technology available in our computer labs:
Sufficient computers are available with latest configurations to students
All the computers are connected in LAN / WAN
2 High Configuration Router 2600 & 1700 series, Pix firewall 501,
2 mbps BSNL Lease Line connection with one STM switch & CISCO, manageable switches including one core switch with Fiber Optic connectivity, De-l ink un managed Switch etc
Latest software (operating system & application) available for students for data analysis.
Internet facilities available for faculty & students
Hostel & Accommodation for Feeling like Home
The hostel provides a pleasant high spirited environment to the students where they develop team spirit, patience and adaptability so that they can acquaint in any situation. In each of our Institute we have hostel separate facility for boys & girls student separately. We ensure your security in hostel & congenial environment for your study. The rooms are well furnished, airy, with attached bathrooms, proper house keeping facilities, telephone facilities and are equipped with a number of other amenities as well.
Sports, Medical & Other facilities for Relaxing In tune with the objective of all round development of students, various sporting and physical development activities are encouraged amongst students. To enable students to enjoy sports, the campus is equipped with a big size running track, football field, cricket field, basket ball & table tennis tables etc. Emergency medical facilities are available for our students. "First Aid" boxes are available at all campuses and hostels. A modern gourmet class restaurant in each Institute offers variety of Indian, Chinese and continental snacks and meals to cater to the multi-ethnic tastes of the students.
TEACHING & FACULTY
Faculties of highly qualified and experienced teachers are inducted in the teaching staff with adequate non-teaching staff support. Professors and Lecturers at the Institute have consistently endeavoured to encourage deep, broad, flexible, and imaginative student learning. Our aim  is to advocate quality teaching on campus, facilitate the exchange of ideas about teaching and learning among faculty, offer resources for faculty, serve as a bridge between individual faculty members and information resources and technology, and create an informal source of support for faculty teaching.
There are many young, energetic and experienced faculty members in our Institutes who motivate students for constant development and participation in the learning process.
Admission in Bachelor of Hospital Management,  BHM course, Bachelor of Hospital Management,Admission in Bachelor of Hospital Management,  BHM course, Bachelor of Hospital Management, Admission in Bachelor of Hospital Management,  BHM course, Bachelor of Hospital Management, Admission in Bachelor of Hospital Management,  BHM course, Bachelor of Hospital Management, Admission in Bachelor of Hospital Management,  BHM course, Bachelor of Hospital Management, Admission in Bachelor of Hospital Management,  BHM course, Bachelor of Hospital Management,Admission in Bachelor of Hospital Management,  BHM course, Bachelor of Hospital Management,Admission in Bachelor of Hospital Management,  BHM course, Bachelor of Hospital Management,Admission in Bachelor of Hospital Management,  BHM course, Bachelor of Hospital Management,Admission in Bachelor of Hospital Management,  BHM course, Bachelor of Hospital Management,Admission in Bachelor of Hospital Management,  BHM course, Bachelor of Hospital Management,Admission in Bachelor of Hospital Management,  BHM course, Bachelor of Hospital Management,Admission in Bachelor of Hospital Management,  BHM course, Bachelor of Hospital Management,Admission in Bachelor of Hospital Management,  BHM course, Bachelor of Hospital Management, Admission in Bachelor of Hospital Management,  BHM course, Bachelor of Hospital Management,Admission in Bachelor of Hospital Management,  BHM cAdmission in Bachelor of Hospital Management,  BHM course, Bachelor of Hospital Management,Admission in Bachelor of Hospital Management,  BHM course, Bachelor of Hospital Management,Admission in Bachelor of Hospital Management,  BHM course, Bachelor of Hospital Management,Admission in Bachelor of Hospital Management,  BHM course, Bachelor of Hospital Management, Admission in Bachelor of Hospital Management,  BHM course, Bachelor of Hospital Management, Admission in Bachelor of Hospital Management,  BHM course, Bachelor of Hospital Management,Admission in Bachelor of Hospital Management,  BHM course, Bachelor of Hospital Management,Admission in Bachelor of Hospital Management,  BHM course, Bachelor of Hospital Management,   Admission in Bachelor of Hospital Management,  BHM course, Bachelor of Hospital Management, Admission in Bachelor of Hospital Management,  BHM course, Bachelor of Hospital Management, Admission in Bachelor of Hospital Management,  BHM course, Bachelor of Hospital Management, Admission in Bachelor of Hospital Management,  BHM course, Bachelor of Hospital Management, Admission in Bachelor of Hospital Management,  BHM course, Bachelor of Hospital Management, Admission in Bachelor of Hospital Management,  BHM course, Bachelor of Hospital Management,Admission in Bachelor of Hospital Management,  BHM course, Bachelor of Hospital Management,ourse, Bachelor of HospAdmission in Bachelor of Hospital Management,  BHM course, Bachelor of Hospital Management,ital Management, Admission in Bachelor of Hospital Management,  BHM course, Bachelor of Hospital Management,
 Admission in Bachelor of Hospital Management,  BHM course, Bachelor of Hospital Management,Admission in Bachelor of Hospital Management,  BHM course, Bachelor of Hospital Management,Admission in Bachelor of Hospital Management,  BHM course, Bachelor of Hospital Management,Admission in Bachelor of Hospital Management,  BHM course, Bachelor of Hospital Management,Admission in Bachelor of Hospital Management,  BHM course, Bachelor of Hospital Management,Admission in Bachelor of Hospital Management,  BHM course, Bachelor of Hospital Management,Admission in Bachelor of Hospital Management,  BHM course, Bachelor of Hospital Management,Admission in Bachelor of Hospital Management,  BHM course, Bachelor of Hospital Management,Admission in Bachelor of Hospital Management,  BHM course, Bachelor of Hospital Management,Admission in Bachelor of Hospital Management,  BHM course, Bachelor of Hospital Management,Admission in Bachelor of Hospital Management,  BHM course, Bachelor of Hospital Management,Admission in Bachelor of Hospital Management,  BHM course, Bachelor of Hospital Management,Admission in Bachelor of Hospital Management,  BHM course, Bachelor of Hospital Management,Admission in Bachelor of Hospital Management,  BHM course, Bachelor of Hospital Management,Admission in Bachelor of Hospital Management,  BHM course, Bachelor of Hospital Management,Admission in Bachelor of Hospital Management,  BHM course, Bachelor of Hospital Management,Admission in Bachelor of Hospital Management,  BHM course, Bachelor of Hospital Management,Admission in Bachelor of Hospital Management,  BHM course, Bachelor of Hospital Management,Admission in Bachelor of Hospital Management,  BHM course, Bachelor of Hospital Management,Admission in Bachelor of Hospital Management,  BHM course, Bachelor of Hospital Management,Admission in Bachelor of Hospital Management,  BHM course, Bachelor of Hospital Management,Admission in Bachelor of Hospital Management,  BHM course, Bachelor of Hospital Management,Admission in Bachelor of Hospital Management,  BHM course, Bachelor of Hospital Management,Admission in Bachelor of Hospital Management,  BHM course, Bachelor of Hospital Management,Admission in Bachelor of Hospital Management,  BHM course, Bachelor of Hospital Management,Admission in Bachelor of Hospital Management,  BHM course, Bachelor of Hospital Management,Admission in Bachelor of Hospital Management,  BHM course, Bachelor of Hospital Management,Admission in Bachelor of Hospital Management,  BHM course, Bachelor of Hospital Management, Admission in Bachelor of Hospital Management,  BHM course, Bachelor of Hospital Management,Admission in Bachelor of Hospital Management,  BHM course, Bachelor of Hospital Management,Admission in Bachelor of Hospital Management,  BHM course, Bachelor of Hospital Management,Admission in Bachelor of Hospital Management,  BHM course, Bachelor of Hospital Management,Admission in Bachelor of Hospital Management,  BHM course, Bachelor of Hospital Management,Admission in Bachelor of Hospital Management,  BHM course, Bachelor of Hospital Management,Admission in Bachelor of Hospital Management,  BHM course, Bachelor of Hospital Management,Admission in Bachelor of Hospital Management,  BHM course, Bachelor of Hospital Management,Admission in Bachelor of Hospital Management,  BHM course, Bachelor of Hospital Management,Admission in Bachelor of Hospital Management,  BHM course, Bachelor of Hospital Management,Admission in Bachelor of Hospital Management,  BHM course, Bachelor of Hospital Management,Admission in Bachelor of Hospital Management,  BHM course, Bachelor of Hospital Management,Admission in Bachelor of Hospital Management,  BHM course, Bachelor of Hospital Management,Admission in Bachelor of Hospital Management,  BHM course, Bachelor of Hospital Management,Admission in Bachelor of Hospital Management,  BHM course, Bachelor of Hospital Management,